YZS-120 Oil Expeller
YZS-120 oil expeller is an advanced oil screw press, characterized by its simple design, easy to use, wide suitability and continuous operation, high productivity and high oil output rate. Moreover, this screw expeller can be used for various raw materials, such as ground nuts, soybeans, rape seeds, cotton seeds, sesame seeds, sunflower seeds, coconuts/copra, tea seeds, jatropha etc. At the same time it can be designed into D series and A series.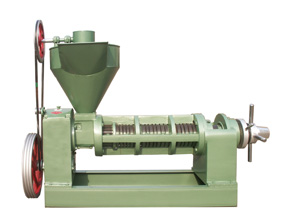 Specification of oil expeller YZS-120

* Capacity: 6T per 24 Hours
* Power: 15kW/3-phase/1440rpm
* Size: 1970 x 700 x 780mm
* Weight: 680kg


Features of oil expeller YZS-120
* Cast iron machine base;
* Special gear box structure make the rotating speed averagely;
* Main parts of chamber through the processing of high-temperature tempering and low temperature quenching;
* Cake thickness can be adjusted once the machine stop running;
* Superior grade oil cake;
* Compact structure, stable function, simple maintenance.

YZS-120 Oil Press Feeder (Capacity 6t/24h)
From the picture, you can see the inside part of the feeder for our oil press. It is not just simple reversed fastigiated container to let the materials let down itself, but in the middle of it, there is a screw device and a stirring rod. When you turn on the oil press, put the materials in the feeder, the screw device will turn round to help feed the materials to go down to the chamber of the oil press smoothly and effectively. With this device, it avoids the blocking in the feed inlet of the feeder, improve the effect of the machine highly, and the stirring rod also have certain effect on mixing the materials before pressing oil.
Lubrication Maintenance
Oil press is lubricated by lubricating oil and grease, see table.
| | | | | |
| --- | --- | --- | --- | --- |
| No. | lubrication | lubricate | Time span | Lubricate replacement period |
| 1 | Adjusting bolt | mechanical oil No.20 | 1-2time/day | |
| 2 | Bevel gear | mechanical oil No.20 | 1-2time/day | |
| 3 | Bearing bush | mechanical oil No.20 | 1-2time/day | |
| 4 | Gearbox | mechanical oil No.20 | 12kg the first time | six month |
| 5 | bearing | Grease | | once a year |
Detailed information, please contact us.